Rating
2 out of 5 (A little platitudinous)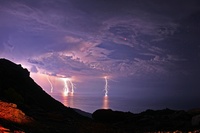 Brian here, in Southampton, an associate lecturer at the
London Institute for Contemporary Christianity
where we envision and equip Christians and their churches for whole-life missionary discipleship in the world, seek to serve them with biblical frameworks, practical resources, training and models so that they flourish as followers of Jesus and grow as whole-life disciplemaking communities. Hi.
Teenagers who see their parent's drunk are
twice as likely
to binge drink. This illustrates nicely that the adage, "Do as I say, not as I do," is all but useless. Children follow their parents' example. And it's not just poor people you know. You might think it's just poor, stupid people that do this. Actually, some quite respectable, middle class Radio 4 listeners do this too. Yes, I know, shocking isn't it?
As any alcoholic will tell you, the first step towards recovery is to recognise that you have a problem. If you wake up on the floor at 2 o'clock in the morning every night then it might just be time to re-assess your drinking habits. In my case, the motivation was getting tiddly at a christening party, giving some champagne to my 4 year old daughter and then hastily having to leave. Naturally there's some danger involved in giving alcohol to a 4 year old, but much worse than that, it was ever so socially embarrassing.
So, my name is Brian, and I've been off the booze now for nine months. Only another three months to go and then I can get plastered again, but in the mean time I feel great. I just want to make it absolutely clear that I'm not passing judgement on those of you too weak willed to do as I've done. I'm not trying to impress you with my virtue or my strength of character or anything like that.
Not only is my health and well being improving, so is the example I'm setting my daughter. God, I can't wait until she's grown up and I can get pissed again.
Listen
<<First
<Back
| 162 | 163 | 164 | 165 | 166 | 167 | 168 | 169 | 170 | 171 |
Next>
Last>>