Rating
3 out of 5 (Fairly platitudinous)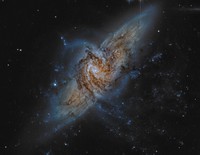 Statistics, statistics, statistics. Yesterday we learned that over
40% of people get cancer
. With that tenuous link to the news out of the way, here's another jolly statistic for you: you're all going to die. Every last one of you.
I don't mean to start the day with a bit of a downer, but many of you will die through your own gluttony, laziness, alcoholism, or other symptom of your degenerate lifestyles. It's about time you all started to pull your socks up a bit and started taking a bit more responsibility for your own health. You can't expect the NHS, social services, or even the Invisible Magic Friend to look after you if you don't look after yourself.
Speaking of the Invisible Magic Friend, his second bit, Jesus, who you'll recall was briefly visible for a few decades, became visible to show you he could just be an ordinary bloke, with all the problems of an ordinary bloke. As the New Tasty mint testifies, he had all the usual childhoods ailments... err... actually no it doesn't, but I'm sure he had them all the same. What's more, he didn't die of some disease of self indulgence. No, he died a proper death, being nailed to a tree. As deaths go, that has to be one of the best.
Listen/Read
<<First
<Back
| 160 | 161 | 162 | 163 | 164 | 165 | 166 | 167 | 168 | 169 |
Next>
Last>>