Rating
3 out of 5 (Fairly platitudinous)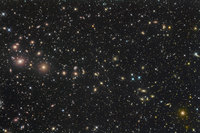 Every 5 minutes a child
runs away
from home or from care. That's 100,000 a year. A quarter are forced out. On the streets they are vulnerable to predatory adults and the false escapes of drink and drugs. I was so outraged by these scandalous statistics, this wanton disregard for the welfare of children, that I decided that enough was enough, I just
had
to do something. So I immediately grabbed my coat, dashed out of the door and headed straight for a museum.
The
Museum of Childhood
was full of happy, smiling children in neatly pressed school uniforms. I breathed a huge sigh of relief - no street urchins dressed in rags, surrounded by empty tins of Tennents' Super here. I was reminded that children take a special delight in the world around them, especially when it's filled with toys.
I was also reminded that real Christianity, true Christianity,
my
Christianity, likes to enjoy itself. We're not like certain dour faced puritans, such as... well we all know who they are, no need to name names - so-called "Christians" that don't want to have priests and bishops with lots of
shiny gold threaded vestments
and great big flowing capes with pointy hats and big ornamental poles to carry around.
Jesus, the visible bit of the Invisible Magic Friend, said we needed to be more like children. Unfortunately, some children are being prematurely sexualised and made to think as adults by adults who want to be more like children... so Jesus was obviously wrong about... er, just forget that bit.
Anyway, we should be very, very angry indeed about the mistreatment of children. Won't somebody please,
please
think of the children!
Listen/Read
<<First
<Back
| 160 | 161 | 162 | 163 | 164 | 165 | 166 | 167 | 168 | 169 |
Next>
Last>>