Rating
4 out of 5 (Highly platitudinous)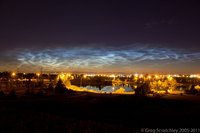 Two Poussin paintings have been
vandalised at the National Gallery
. Both are religious scenes: the Israelites idolatrously idolising the golden calf, and the shepherds idolatrously idolising the second best prophet in Islam. Perhaps this was some kind of religious nutter. There's a lot of them out there you know. I don't know where they get their wacko ideas from.
Great art certainly seems to command its share of idolatry, which is why in Islam we prefer not to have much of it. Some of it seems to command crazy prices. Perhaps we should have to do some kind of "ritual purification" before being allowed to see it. I don't mean the kind of really useful ritual purification like we do before entering a mosque, no, I mean the usual bag search, pat down and weapons scanner that we seem to get all the time nowadays. I can't think why we have to have all these security searches all over the place. Can you?
The Koran tells us that we shouldn't have security checks at art galleries, even in cultures where art galleries full of pictures with people in them are allowed. I hope the authorities at the National Gallery are paying attention to what I'm telling them.
Listen/Read
<<First
<Back
| 159 | 160 | 161 | 162 | 163 | 164 | 165 | 166 | 167 | 168 |
Next>
Last>>