Rating
3 out of 5 (Fairly platitudinous)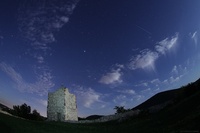 Tariq Jahan
stands out those week as a voice of reason among all the shouting. The father whose son was murdered while trying to protect his neighbourhood, appealed for calm, saying that he had no hatred in his heart.
He stands beside others who have also suffered great loss with equally great dignity, asking that communities do not tear themselves apart in revenge attacks.
This kind of admirable behaviour does not come easily or accidentally. It takes training as part of a philosophy, like... for example... oh... I don't know... to pick a philosophy at random... Buddhism. Buddhism is a very good way of learning how not to be angry. Tariq Jahan isn't actually a Buddhist, but had he been a Buddhist he would have learned to behave exactly the way he did.
Buddhism teaches you to not unleash the perfectly natural psychotic rage that we all feel all the time. Through Buddhism, we learn to calmly and methodically examine our motives. If Mr Jaham had only been a Buddhist, he would have learned that anger leads to the Dark Side. He would have learned many fine words such as empathy, justice, forbearance, forgiveness and many other words from that entry in the thesaurus.
The Buddha, whose teachings Mr Jaham accidentally follows, taught that hatred comes from people. He wisely observed that trees have never been known to hate anyone. If we're going to stop the cycle of hatred, we have to stop hating people.
Listen/Read
<<First
<Back
| 157 | 158 | 159 | 160 | 161 | 162 | 163 | 164 | 165 | 166 |
Next>
Last>>