Rating
5 out of 5 (Extraordinarily platitudinous)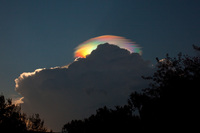 Anders Breivik
shows no remorse for his killings, believing that history will judge his actions as fair and reasonable. This is what happens when a delusional mind, obsessed with a dangerous ideology, decides that the end justifies the means.
Other delusional megalomaniacs have made similar statements about the judgement of history: Stalin, Nixon, Gaddafi. Those who hold to such bizarre fantasies often do so in defiance of all the facts. They seem completely separated from reality.
None of this bothered Saint Paul. Unlike the various megalomaniacs whom I have previously discussed, Saint Paul wrote about Jesus, who told everyone he was really the Invisible Magic Friend in disguise. Saint Paul didn't care about the judgement of history. In his view there wasn't going to be any as Jesus was due to return any month now - a year or two tops. Saint Paul knew all about reality and what really mattered was Jesus' opinion of you.
If only psychotic fantasists like Anders Breivik would accept reality and realise that it wasn't the judgement of history that mattered, but what the Invisible Magic Friend thought about you.
Listen/Read
<<First
<Back
| 155 | 156 | 157 | 158 | 159 | 160 | 161 | 162 | 163 | 164 |
Next>
Last>>