Rating
3 out of 5 (Fairly platitudinous)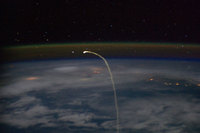 A couple of politicians have been trying some "blue sky thinking". Steve Hilton thinks
maternity leave
should go. Maurice Glasman wonders if Labour's
immigration policies
have fuelled the far right.
This sort of out-of-the-box, anything goes thinking is
precisely
what theology is all about. It's about seeing the big picture, the full context, the grand scheme, our true place in it all, and filling it with invisible magic stuff. It's about the invisible Magic Friend becoming visible. Big ideas like that. I mean really, really big, original ideas like that. No one had ever thought of the Invisible Magic Friend becoming visible before Christianity. That's the sort of practical, down to earth, life changing, explosive idea that only theology can
make up
bring.
So hurrah for politicians who think the unthinkable like theologians do. We need more of that type of thinking in parliament.
Listen/Read
<<First
<Back
| 158 | 159 | 160 | 161 | 162 | 163 | 164 | 165 | 166 | 167 |
Next>
Last>>