Sunday, 7 August, 2011, 06:33 AM -
Not TFTD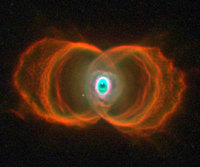 I just had to post this picture of a very pretty planetary nebula from APOD. It's central star is now well on its way to becoming a white dwarf.
I got distracted following all the links at APOD about white dwarfs. I used to think these were just stellar left overs that quickly cooled to boring lumps of stuff. Turns out that they take a very long time to cool. In fact they take so long to cool that, given the age of the universe so far, none are expected to have cooled completely. There's speculation that they might even warm planets that are capable of
supporting life
.
So once the sun has toasted the earth and settled down to its ripe old age, it could, just possibly, give life to a whole new world.
White dwarves aren't the only alien stellar objects where life could survive. Other extremely long lived, stable environments are provided by
orange dwarfs
and
red dwarfs
- both of which are far more common in the universe than stars like our sun. These stars live billions of years longer than the sun and so, presumably, any planets in their habitable zones may have a good chance of evolving complex life.
<<First
<Back
| 157 | 158 | 159 | 160 | 161 | 162 | 163 | 164 | 165 | 166 |
Next>
Last>>