Rating
3 out of 5 (Fairly platitudinous)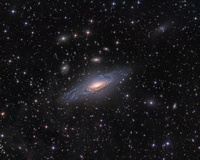 It's perhaps not the best time in the world to be asking for
improved prison conditions
, but we really should be looking to improve prison conditions. Prisoners in Wandsworth are routinely bullied and confined to their cells for 22 hours a day. Even prisoners should be entitled to certain basic standards of decency and dignity.
Most of us instinctively know what is right and wrong. We don't need reward or punishment, or to have someone watching over us (such as the Invisible Magic Friend). Our own sense of self worth is sufficient to make us behave in a socially acceptable way.
When Jesus told sinners to stop sinning, he would often join them for dinner and generally make themselves feel comfortable and good about themselves. He gave them the sense of self worth that they needed in order to reform their character. If Jesus did it then it must be right. I'm sure telling you what Jesus did really serves to reinforce my point that in order for people to behave well they need to be motivated to do so.
Failure to grant dignity and decency to prisoners removes any chance to motivate them towards rehabilitation.
Jesus says so.
Listen/Read
<<First
<Back
| 156 | 157 | 158 | 159 | 160 | 161 | 162 | 163 | 164 | 165 |
Next>
Last>>