Wednesday, 2 September, 2009, 06:03 AM -
Not TFTD
Several stories lately have highlighted the need to be sensitive when dealing with people's beliefs. As a Reverend Doctor let me just assure you that I have the deepest respect for all religions and would never seek to disparage, mock, or belittle any of the world's great faiths. With this in mind, I have to echo the sentiments of my colleague,
Reverend Canon Doctor Alan Billings
, by pointing out that there are certain things that you simply ought not to do, like raping your own daughter - it's not nice. Here are a couple of other things you should not do.
You should not say bad things about the Catholic Church. The Catholic Church is the only real church. It was founded by Christ Himself when he passed His magic powers to Saint Peter and the Apostles. They have passed their magic powers down through the generations to today's bishops whose magic powers you can be entirely sure of because they say they have them. These magic powers include the ability to forgive your sins, to turn water into magic water, to make you properly married, to change bread and wine into the body and blood of Christ, to turn oil into magic oil and to make sure you die properly. They bring you the good news that you have been saved, which I'm sure comes as a great relief now that you know you needed to be saved.
In a world of poverty, sexually transmitted disease, over population and severe resource depletion, it is absolutely vital that the Catholic Church's policy of no family planning whatsoever be adhered to at all cost. Similarly, the Church's quiet wisdom on the problem of gayness, which is responsible for so much evil in the world, must be heard and obeyed. The Catholic Church loves gay people and wishes only what is best for them. It is because of this great love that it has successfully opposed many wicked attempts to secure equal rights for people suffering from gayness. Some have doubted the wisdom and justice of these policies, but the Catholic Church derives its authority from God. In evidence, we see that it is entirely run by celibate men, so it's authority and wisdom are not compromised by women or people who have sex. Further evidence comes from the fact that none of these celibate men suffer from gayness.
Some people have said bad things about the Catholic Church. Such people are bad people and should not be listened to. Look how upset
this man
is because bad people have said bad things about the Catholic Church. If you're one of these people, then stop saying bad things about the Catholic Church! It makes him very upset, although you might cheer him up a little if you buy his book.
The Catholic Church is an easy target. Bad people might say bad things about the Catholic Church, but they wouldn't dare say them about Islam. Just in case you're tempted, you should not say bad things about Islam either. Islam is the only true religion. It was founded by the Prophet Mohammed (PBUH), who was the most perfect individual ever to have lived. Islam means "peace". It has spread throughout the Middle East, Far East, North Africa and Southern Europe entirely peacefully, thanks to its beauty, its internal consistency, it's concentration on logic and its insistence that there is no compulsion in religion. There is no difference between the rights of men and women in Islam - both are treated equally. Islam has been shown to be the most enlightened religion there has ever been in regard to women's rights. As with the Catholic Church, Islam loves gay people. However it is not quite as enlightened and tolerant as the Catholic Church and takes active steps to cure gay people by depriving them of their sexuality, and incidentally the ability to breathe. All of modern science can be found in Islam's holy book, the Holy Koran, except evolution which is only a theory.
Some bad people
have
said bad things about Islam. They published cartoons suggesting that Muslims get very upset very easily and really ought to lighten up a bit. Muslim reaction was typically resigned, restrained and contemplative, with thankfully only a few people getting killed. That is why a firm of
Saudi lawyers
have peacefully demanded that all images of these bad cartoons be removed from the internet in perpetuity. I must therefore ask all of you not to show this image anywhere on any of your internet sites.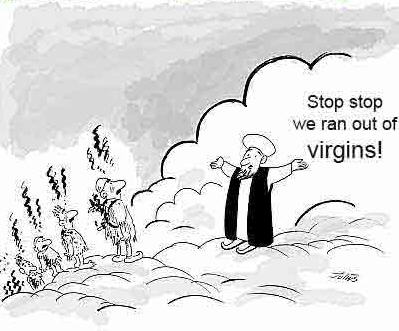 Or this one.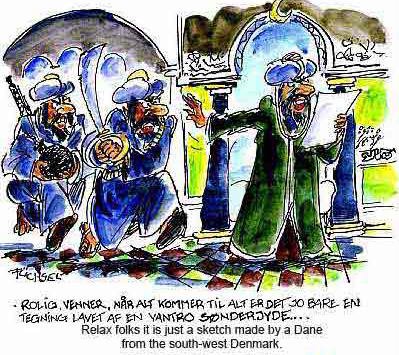 And on absolutely no account whatsoever should you ever show this one!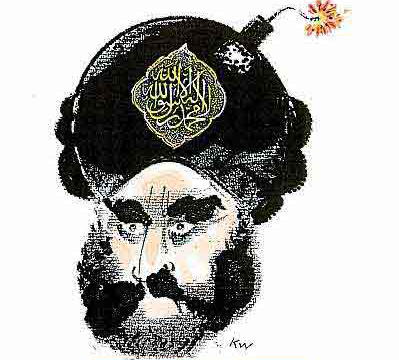 Thank you for your cooperation. I know that, if we people of good faith can only band together, we can stop bad people from ever saying bad things about religion ever again, making this world of ours a happier, safer, more respectful place for all of us.
<<First
<Back
| 234 | 235 | 236 | 237 | 238 | 239 | 240 | 241 | 242 | 243 |
Next>
Last>>