Saturday, 10 September, 2011, 08:19 AM
Rating
3 out of 5 (Fairly platitudinous)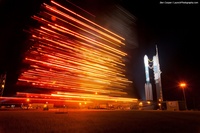 I was with the Archbishop of Canterbury in Trinity Office Tower when the twin towers were attacked. We had to quickly carry children and infants away when the south tower collapsed and we began to suffocate in the dust.
We looked into the face of the Invisible Magic Friend that day, which oddly enough is roughly what the terrorists themselves rather had in mind.
The archbishop quoted from Ephesians, which really helped.
The world would be a much better place if there was more love and fewer religious nutters flying planes into buildings.
Listen/Read
<<First
<Back
| 154 | 155 | 156 | 157 | 158 | 159 | 160 | 161 | 162 | 163 |
Next>
Last>>