Sunday, 11 September, 2011, 08:14 AM -
Not TFTD
It's estimated that some 200 people fell to their deaths from the twin towers. Some were blinded by smoke and were simply unaware that they were staggering towards walls that were no longer there. Others, crushed against the windows as they gasped for air, were pushed out. At least one man tried to climb from the 92nd to the 93d floor, only to lose his grip at the last moment.
Then there were those who faced the desperate choice: die in the choking heat, or leap from the building into oblivion. The horror of that situation can scarcely be imagined. A few, bravely, tried to improvise parachutes from towels or drapes, but they were ripped from their hands by the terrific force of the air rushing past them.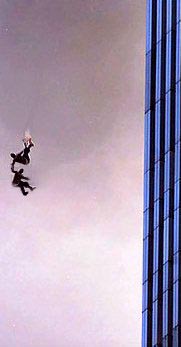 The fall took about 10 seconds. Most were conscious all the way down. They hit the ground at over 150mph. Their bodies were torn apart by the force of the impact, leaving blood and human limbs scattered around the buildings. Evacuees from the towers had to walk through this carnage.
And what of this poor couple, trying to hold hands, seeking one last human touch to make those final seconds bearable. What thoughts were in their minds, or in their hearts, as they resolved to plummet 1000 ft to their deaths?
All in the name of a figment of people's imagination.
Nearly all of those who fell, or jumped, remain unidentified. Many families fiercely resist the idea that their loved ones might have jumped from the twin towers. To take your own life, no matter how extreme the circumstances, is against their religion.
<<First
<Back
| 154 | 155 | 156 | 157 | 158 | 159 | 160 | 161 | 162 | 163 |
Next>
Last>>