Rating
4 out of 5 (Highly platitudinous)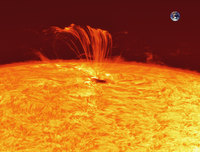 It's big Jewish festival time - happy Jewish New Year everyone!
Last week
I explained how Jewish New Year was about Rupert Murdoch saying "sorry" and always has been. This week I'm going to explain how the Jewish New Year is about solving the Euro economic crisis, and always has been. The Crisis in the Euro, or "Euro crisis" as we economic experts call it, is the biggest crisis in world financial stability since the previous crisis.
The solution to the economic crisis is obvious - don't have one in the first place. You can achieve this by blowing a
ram's horn
for ten days every year. This tells the Invisible Magic Friend that you've read Nietzsche and are therefore worthy of forgiveness. We know, as an absolute proven fact, as certain as the existence of the Invisible Magic Friend himself, that he will forgive you. Of course sometimes he doesn't forgive you and condemns you for eternity, or throws an enormous divine wobbly and extinguishes all life on earth, but on the whole he's quite a forgiving Invisible Magic Friend.
So, all you spendthrift, sinning, irresponsible liars, it's time to get on your knees and start blowing that horn.
And that is how to solve the Greek debt crisis and reduce Italian government borrowing interest rates.
Happy Jewish New Year everybody!
Listen/Read
<<First
<Back
| 152 | 153 | 154 | 155 | 156 | 157 | 158 | 159 | 160 | 161 |
Next>
Last>>