Wednesday, 14 September, 2011, 07:27 AM -
Bell
Rating
2 out of 5 (A little platitudinous)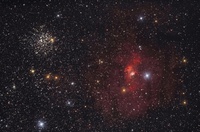 We all enjoy a good sing song. It's such an innocent pastime.
Or is it?
Only last Saturday we had the Last Night of the Proms, where people waved Union Jacks and sang patriotic songs. Well, call me mister picky, but it may interest you to know that there is no theological justification
whatsoever
for Britain to
rule the waves
. Remarkable, isn't it? Someone just completely made it up!
Then there are the sectarian songs that Catholics and Protestants like to sing to annoy one another. Anyone would think that the two beliefs, that the Pope is the Invisible Magic Friend's top boss man on earth, and that the Pope isn't the Invisible Magic Friend's top boss man on earth, are in some way mutually exclusive.
And now we have Julius Malema's jolly little ditty
Shoot the Boer
, which invites poor black South Africans to cheer themselves up by getting a gun and go shoot a white South African.
At this point, for no obvious reason, I'd just like to mention Satan, the Invisible Magic Baddy, and Jesus, the visible bit of the Invisible Magic Friend.
South Africa doesn't need this. It introduces division between black and white South Africans to a generation that never knew apartheid, and does so for the most cynical of reasons, to disguise the failure of political leadership in South Africa.
Listen/Read
<<First
<Back
| 153 | 154 | 155 | 156 | 157 | 158 | 159 | 160 | 161 | 162 |
Next>
Last>>