Thursday, 29 September, 2011, 03:02 PM -
Not TFTD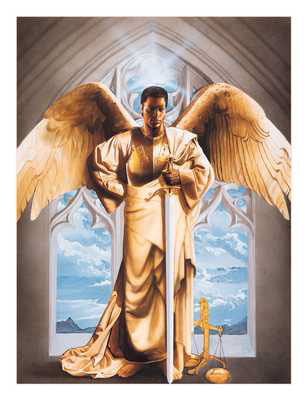 Sorry, there are times when I'm just completely outclassed by another
parody
religious website.
Protect the Pope
has an article on the Congregation for the Clergy's homily on the vital role played by the Archangels in battling "atheistic secularism and materialism".
The Congregation for the Clergy used to handle cases of sex abuse by priests but they turned out to be (even more) incompetent than the Holy Inquisition who deal with them now.
Archangel Michael protects us from the dragon apparently. Archangel Raphael heals the blind - God's holy optometrist. The Archangel Gabriel specialises on knocking on doors and announcing that virgins are about to be knocked up by his boss.
I think all three archangels are to be congratulated. Presumably they started out as ordinary jobbing cherubs and worked their way up to their current exalted position.
"Protect the Pope believes that if Jesus and the Evangelists talked freely and openly about angels,then we should also be as open and free to talk about their importance to our lives."
And Platitude of the Day agrees! We need more articles about angels.
Please - get this guy on TFTD. On second thoughts, maybe not, this site would be out of business - parody would be unnecessary.
Read
<<First
<Back
| 151 | 152 | 153 | 154 | 155 | 156 | 157 | 158 | 159 | 160 |
Next>
Last>>