Thursday, 1 October, 2009, 12:03 PM -
Clemmies
The competition from our contributors has been truly superb this month, with a an excellent level of platitudinousness from many of them. It's been slightly spoiled by one or two who have produced moderately sensible thoughts that have been scarcely platitudinous at all. To them I can only say this, you're letting your listeners down, you're letting the side down but most of all, you're letting yourselves down.
As is traditional I will announce the top three in reverse order. However, such was the standard this month that I really do feel that honorary mentions are due to the following.
Chief Rabbit Sir Jonathan Sacks for his
The one thing the Jewish faith doesn't do is dwell on the past.
Reverend Lucy Winkett, Canon Precentor of St Paul's Cathedral, for her
Wearing clothes is evil, no it isn't, well possibly, or maybe not.
Rev Dr Dr David Wilkinson, Principal of St John's College Durham for his
A remembrance service in a Cathedral? Who'd have thought it?
Congratulations to the above, all of whom scored a highly respectable 3.9, and to those who didn't make it into the top three, better luck next time. And now, with all due solemnity, let us move to the important business of this month's prestigious Clemmie award.
In third place, with 56 votes from the Academy and a top notch score of 4, is Wallopingly Reverend Tom Butler, Lord Bishop of Southwark with his
How to choose an Aposhle? (Hic!)
In second place, with 107 votes and what would normally qualify as a winning score of 4.3, we have Shaikh Abdal Hakim Murad, Muslim Chaplain at the University of Cambridge and his
Some people will believe any old rubbish.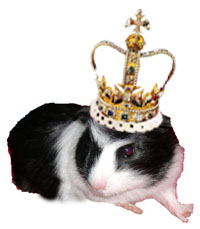 But with a truly astonishing 172 votes and a record breaking score of 4.9, it is my honour to present this month's Clemmie to:
Rev Dr Dr David Wilkinson, Principal of St John's College Durham and his
God provides no evidence that He exists, thus proving that He exists.
Well done Rev Dr Dr Wilkinson. His achievement is all the more remarkable for being a new boy on TFTD. I think this demonstrates beyond all doubt, the value of having two PhDs.
<<First
<Back
| 230 | 231 | 232 | 233 | 234 | 235 | 236 | 237 | 238 | 239 |
Next>
Last>>