Sunday, 25 October, 2009, 03:14 AM -
Not TFTD
Rating
5 out of 5 (Extraordinarily platitudinous)
Is your church thinking about treating women as equals? Fed up with the lack of implacable hatred towards gayness? Sick to death of all this tolerance and discussion and democracy? Worried about remaining in a defective, and not really
proper church?
Then why not join the Roman Catholic Church -
the
Church for misogynist, homophobic bigots. We're nearly as vitriolic and regressive as Islam, despite being founded a whole six centuries ahead of that other, wrong, religion. It's time to throw away centuries of theology that up 'till now you claimed to believe in and come join the undemocratic, hierarchical, patriarchal, intolerant, intransigent organisation that you previously claimed held no unique divine mandate. Don't worry if you look like a petulant hypocrite, you'll feel right at home with us.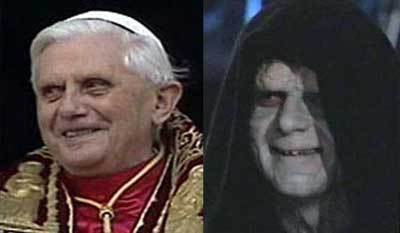 There's a whole host of reasons to join the modern Roman Catholic Church. Under the benevolent leadership of His Holiness Fuhrer Rottweiler the umpteenth, you'll be told exactly what to think, do and say by real priests - proper, male, celibate* priests with genuine magic powers. Just think of it, no more struggle with conflicting principles or moral conundrums. When you join the proper church, your old conscience will be instantly removed and replaced with a nice, new, standard, cardboard cutout Catholic conscience. It'll be crystal clear to you that condoms are the work of Satan and that the last people who should decide when women have babies are women themselves. You'll no longer be embarrassed about hating gays and all the evil that they do.
We know how awful it must be to be in a (not proper) church that keeps trying to keep up with the times. With the Roman Catholic Church, we guarantee that nothing ever,
ever
, changes. In the whole history of the (proper) church, no pope has ever contradicted a predecessor or revoked or changed any act of dogma. (Well technically usury is still on the statute books, but it makes the Vatican bank kind of difficult to run without it, so we prefer not to mention that one. Then there was
Pope Formosus
whose remains were exhumed and put on trial. And hardly anybody knows about
the filioque
and how it was definitely out, then definitely in, and now we're kind of at the shake it all about stage. Limbo used to be real but good Pope Rottweiler
abolished it
, letting all those innocent little babies into heaven. Thankfully most people have forgotten
Pope Honorius
who was anathematized as a heretic. But apart from little things like that, no pope, who is after all infallible, has ever,
ever
, contradicted any of his predecessors.)
What's more, we'll even pass on some of our magic powers to you. You'll be able to perform
real
, fully guaranteed, genuine transubstantiation. No more play acting at being a priest. No more dressing up in late 4th century Roman fashions for pretend masses. Just think about the first time Jesus really smiles at you from a communion wafer. I'll bet you just can't wait to hold his body in your hands and drink his bodily fluids.
It's so easy to join. Just raise your right arm and repeat after me, there is only one proper church, one male hierarchy and one infallible, holy pope.
Ein Volk! Ein Reich!
Ein Fuhrer!
(At this point, the Vatican would just like to formally complain that, despite being the most famous former member of the Hitler youth in the world, Fuhrer Ratzinger has not yet been asked to appear on
Question Time
).
*Priests may occasionally not be entirely celibate, but teenage boys don't really count and besides loads of
other churches
do that as well.
Read
<<First
<Back
| 228 | 229 | 230 | 231 | 232 | 233 | 234 | 235 | 236 | 237 |
Next>
Last>>