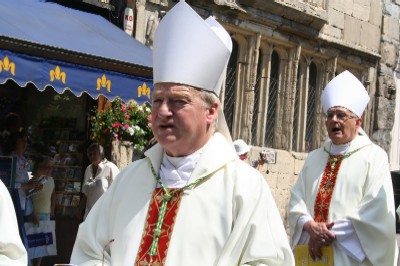 I've had enough of the Church of England with its vicious liberal agenda and it's treating women as if they were just as good as men. What sort of a Church is that? I'm joining a proper Church, the kind of Church that
excummunicates a doctor
for saving a 9 year old girl's life, but retains the man who raped her as a loyal son of the Church. None of this namby-pamby, pinko, left wing, liberalism there.
When one looks at the twelve apostles, the first thing one notices is that they all had a penis. This is because they had to act "in persona Christi". How can they possibly act in persona Christi if they haven't got a penis? Christ had a penis, although he never used it for you-know-what. He never thought about you-know-what and so it never got you-know-what, but the point was it was still a perfectly normal, functional penis. It follows that all priests and bishops have to have a penis. I'm amazed at how many people don't seem to understand this straightforward theological argument.
Now some people have pointed out that, not only did Christ and his followers have penises, they had circumcised penises, so all priests and bishops should be circumcised. That's a
silly
argument. It's not a proper theological argument at all. I don't understand how any sane, rational person can think that, just because Christ and the Apostles were circumcised that priests have to be circumcised. It just doesn't follow at all.
A priest has to have a penis in order to have the magic power to transubstantiate, and in order to pass on his magic powers to other people with penises. Now it just so happens that the Pope doesn't think I've got any
magic powers
, even though I've got a perfectly good penis. So he's going to have to give me some new magic powers so that I can do some proper transubstantiation.
Yes the Catholic Church is the place for me, a Church that orders a more severe penalty for
ordaining women
than for getting caught with the altar boy. A Church that knows how to look after people with penises no matter where they put them. A Church that recognised the many fine qualities of people like
Franco, Mussolini and Hitler
.
Thank God I'm getting away from these fascists in the Church of England.
Read
<<First
<Back
| 188 | 189 | 190 | 191 | 192 | 193 | 194 | 195 | 196 | 197 |
Next>
Last>>