Rating
3 out of 5 (Fairly platitudinous)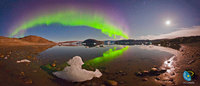 I've got a Big Idea. Here's my Big Idea,
which is mine
, belonging to me and which I invented. This is what it is, my Big Idea.
The people of Libya should be allowed to set up their own government
.
There, that is my Big Idea, that I invented and that is mine.
Other people in the past have set up their own governments. The East Germans set up their own government by having the same government as the West Germans. The Russians set up their own government after they'd let go of all the other bits of the Soviet Union. South Africans set up their own government without killing all the whites. They were able to do that because they were Christians (the South Africans that is - although come to think of it, quite a lot of Germans and Russians are Christians too). As Christians, they realised that a bloodbath of revenge might be a bad thing.
None of these involve my Big Idea, because none of these involve Libya. Libya has got a problem. It's not full of Christians for a start. It seems to be full of people from one of the other religions. The last documented good person from Libya was
Simon of Cyrene
, 2,000 years ago. Despite this, I hold to my Big Idea, that Libya should form its own government. That means that it should not be formed by China, or Russia, or Britain, or France, or Kenya, or Chile but by some good people from Libya, assuming they can find any.
And that is my Big Idea for today.
Listen/Read
<<First
<Back
| 150 | 151 | 152 | 153 | 154 | 155 | 156 | 157 | 158 | 159 |
Next>
Last>>