Thursday, 3 November, 2011, 08:47 AM -
Brook
Rating
5 out of 5 (Extraordinarily platitudinous)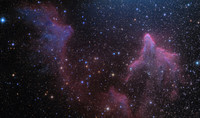 And in breaking news, aren't Cathedrals just fantastic? I mean, like WOW! They're just so BIG! Isn't it just amazing to think that they're held up entirely by faith? I mean WOW! Just WOW!
The other day, me and a packed capacity crowd of over 20 people, were busy worshipping the Invisible Magic Friend in the magnificent
Guildford Cathedral
. During all this worshipping, my thoughts began to wander. I thought to myself, what about all those millions of people who are just dying to get to such a brilliant cathedral as this one but can't make it? They won't be able to go WOW! It must be just terrible for them.
If you're one of those people, then DON'T PANIC! It suddenly occurred to me, in the middle of all that worshipping, that if you don't have access to a magnificent cathedral like Guildford Cathedral, then you can just worship the Invisible Magic Friend at home! Yes, it really is that simple!
But you don't just have to take the word of a celebrity, Christian writer like myself though. I can prove it to you. Jesus, whom you'll no doubt recall was the visible bit of the Invisible Magic Friend, actually said it himself. He said, "You don't have to go to the magnificent Guildford Cathedral to worship me. Feel free to worship me absolutely anywhere you like."
You see, Christianity isn't really about magnificent Cathedrals. We don't really need all these bishops and clergy to help us to do some worshipping. Right from the beginning, Christianity has been all about, simple, ordinary, worshippers, quietly worshipping away. What's
really
important, is that when you do your worshipping, you worship the right Invisible Magic Friend and not one of those made up ones. I just prefer to do my worshipping in a magnificent Cathedral like Guildford.
Listen/Read
<<First
<Back
| 148 | 149 | 150 | 151 | 152 | 153 | 154 | 155 | 156 | 157 |
Next>
Last>>