Rating
4 out of 5 (Highly platitudinous)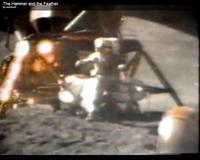 Has anyone mentioned Christmas yet? There's only about eight weeks to go. On Christmas day a baby was born. Coincidentally, a baby was born yesterday too. A baby in the Philippines was precisely the
7 billionth
person on the planet. That's just 12 years after the 6 billionth and 24 years after the 5 billionth.
At this point I'd just like to use some words like "geopolitical", "socio-economic" and "globalisation". Add in a pinch of "environmentally sustainable". These add a certain gravitas to what I'm saying and make it sound as if I have a vast in depth knowledge, on a wide range of subjects, commensurate with my Rev Dr Dr status, that I simply don't have time to explain to you on something as fleeting as a 3 minute radio slot.
Many of the figures in the Big Book of Magic Stuff were born, not just the visible bit of the Invisible Magic Friend. When they were born, they became part of the population, and a jolly good thing too. You see if they hadn't been born then they wouldn't have been able to do all the things they did.
Yes there are all sorts of niggly little problems with having billions more people on the planet, but look on the bright side, there are also billions more people to figure out how to solve those problems too. Simple really when you think about it.
Listen/Read
<<First
<Back
| 149 | 150 | 151 | 152 | 153 | 154 | 155 | 156 | 157 | 158 |
Next>
Last>>