Rating
5 out of 5 (Extraordinarily platitudinous)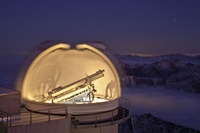 There aren't many
affordable homes being built
these days. The Prime Minister says that's going to change. He's going to get out there and build lots of affordable homes.
Notice that I say "homes", not "houses". I'm sure no one has ever mentioned the difference before, so let me explain. Once upon a time, we all lived in huge,
spacious mansions
, where there was plenty of room to host a dinner party or a dance for one's entire social circle. Then the private sector discovered that they could sell us houses provided each room was large enough for a plasma TV and a chair.
The family rarely meets for a family meal any more. Parents are out working all hours to pay the mortgage on their four rabbit hutch house. Teens selfishly pleasure themselves in their bedrooms, with not even a Catholic priest to offer them guidance.
This is where religion has all the answers. Judaism has a family meal in the home as part of their Sabbath day rituals. Christianity is
exactly
the same, except it's not with the family, it's not at home and it's not really a meal. It's not even a light snack. In the Eucharist, we consume the visible bit of the Invisible Magic Friend cunningly disguised as a wafer of bread. No chemical test will reveal it to be anything other than a wafer of bread but you can be quite sure that it really is the visible bit of the Invisible Magic Friend because Catholic priests have told us that they have the magic powers to make the change. (Anglican priests
don't have magic powers
, so I'm not quite sure why they bother getting together for a pretend Eucharist.)
There is another Abrahamic religion, but we don't talk about them.
When we Catholics have a (proper) Eucharist, we get spiritual nourishment from the wafer, magically transformed into the visible bit of the Invisible Magic Friend thanks to the magic powers of the Catholic priest. All the rest of you don't get all this spiritual nourishment. You're all spiritually malnourished. In fact you must be just rubbish with your complete lack of spiritual nourishment. It's why we Catholics are so much better than everybody else.
And that's how you can make a house a home: by becoming a Catholic and spending your time at church instead.
Listen/Read
<<First
<Back
| 146 | 147 | 148 | 149 | 150 | 151 | 152 | 153 | 154 | 155 |
Next>
Last>>