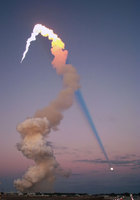 Richard Dawkins
Why do you support faith schools for children who are too young to have chosen their faith,thereby implicitly labelling them with the faith of their parents,whereas you wouldn't dream of so labelling a "Keynesian child"or a "Conservative child"?
Rt Hon Dave
Comparing John Maynard Keynes to Jesus Christ, as he clearly does, shows why Richard Dawkins just doesn't really get it. It's only to be expected from a mere scientist. If only he'd studied harder or went to a better school he could have had a proper job in the media or public relations, like me, or as an advisor to the Great Norman Lamont. I might even have allowed him the privilege of being my fag.
Dawkins clearly hasn't thought very much about religion. We don't just allow any crazy old cult to run schools. They have to be proper religions, with invisible magic stuff that makes sense. My own religious convictions have always been a profoundly important part of my character, especially during constituency selection interviews and at election time.
This is why I do "get it", because I live in the real world, not the privileged ivory tower world of Dawkins. Comparing Christ to Keynes is just ridiculous. Christ's economic theories, of preaching for a living and encouraging the rich to give everything to the poor, especially to itinerant preachers, has always been a central part of Conservative Party tradition. Keynes is an intellectual minnow compared to Christ in terms of economics.
That's why I'm so keen to give this question a mature, in depth response, not a shallow, politician's dismissal. There'll be no patronising, joky evasiveness from me. No one will ever accuse me of snide, intellectual shallowness.
Sectarian schools are rooted in their communities. Just look at what a success sectarian schooling has been in Northern Ireland. Their schools are rooted in their communities - so rooted that they're separated by 20 foot high concrete walls.
Read
<<First
<Back
| 146 | 147 | 148 | 149 | 150 | 151 | 152 | 153 | 154 | 155 |
Next>
Last>>