Tuesday, 13 December, 2011, 08:31 AM -
Tilby
Rating
3 out of 5 (Fairly platitudinous)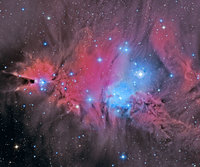 Antonio Horta-Osorio
could soon be back at work. Hurrah! I hear you all shout. He, along with other alpha males and females, such as myself, always run out of steam in the end.
I used to be just like him, never delegating any of my preaching to anyone else, always wanting to be top priest, forever afraid that if I stopped priesting for a second, some ambitious youngster would snatch the title from me. The human body simply isn't designed for such constant stress.
I thought I could handle it. I thought nothing could defeat me. Then came
A Nightmare in Waitrose
, where a power cut plunged the store into emergency lighting. I immediately wanted to run to the bedding section and hide beneath the sheets but was forced to mingle instead with Marks & Spencer's customers who were in the midst of a similar terror. The trauma of that day, the flashbacks, haunt me still. I finally realised that I was not super vicar after all.
This is why Judaism is so much better than Christianity. They have definite rules about observing the Sabbath, and appropriate punishments, such as death, for those who don't obey. The Sabbath is a memorial to the infinitely powerful Invisible Magic Friend, who, shagged out after a hard six days creating, decided to have a bit of a rest. So having the odd power nap is OK, it says so in a bit of scripture somewhere. I know this because it says everything in a bit of scripture somewhere.
The Invisible Magic Friend is not some ultra alpha male that you all have to agree with and worship at ever opportunity. He doesn't micro-manage the whole of creation. Oh no, wait, he does.
When I find myself priesting away again at all hours, thinking once again that I'm the best priest ever, I think it's time to look at myself more humbly. There's nothing wrong with just being
one
of the best priests ever.
Listen/Read
<<First
<Back
| 144 | 145 | 146 | 147 | 148 | 149 | 150 | 151 | 152 | 153 |
Next>
Last>>