Rating
2 out of 5 (A little platitudinous)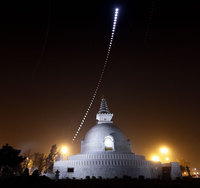 The True Meaning of Christmas is that there are loads of twinkly lights. Everyone gets to decorate a Christmas tree with bright baubles and more twinkly lights. Living rooms have holly and ivy on their walls, or at least their plastic equivalents, and sometimes even more twinkly lights. The whole country comes to a stop for a few days and everything is completely dominated by it for months before hand.
It's all so unfair. I wish we had Christmas in Islam. Oh, we get Eid, but it's nowhere near as good. For a start, there aren't nearly as many twinkly lights. We do the family thing and have a big meal and all that, but the Queen doesn't come on the telly to wish us a Happy Eid. There's no Coronation Street special. It's just not the same. And there are no twinkly lights.
We exchange gifts and cards with people at Christmas time, but we don't get to put up twinkly lights. As Professor of Islamic and Inter-Religious Studies, Assistant Principal for Religion and Society, New College on the Mound, University of Edinburgh, I think Muslims should be allowed to put up twinkly lights at Christmas too!
Listen/Read
<<First
<Back
| 144 | 145 | 146 | 147 | 148 | 149 | 150 | 151 | 152 | 153 |
Next>
Last>>