Rating
4 out of 5 (Highly platitudinous)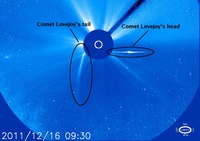 Hi Mary, Gabriel here. I would have texted u but that hasn't been invented yet. Great news!
Who are you?
I told you, I'm Gabriel, the angel Gabriel.
Aha. So what's this good news then?
The Particularly Invisible Bit of the Invisible Magic Friend has just blessed you.
Has just what?
He's just blessed you.
Sorry?
You know... blessed.
I don't follow.
Oh come on, do I have to spell it out? He came in here just now, went underneath your sheet and... you know... blessed you.
Oh, I see! Blessed! That's a bit of a liberty don't you think. I mean, usually a girl likes to be courted a little bit. A box of chocolates, some flowers, even an introduction might have been nice.
Yes, well, He's not really into all that sentimental stuff, what with Him not being human or having any hormones. He really just likes to get on with the business end of things.
He must have been very quick, I didn't even notice I was being "blessed".
That's Him alright! When He wants to bless someone He doesn't hang about. It's just straight in there and, woosh, He's one fast blesser.
So now what?
Well you'll have a baby boy who, according to prophecy, will be named Emmanuel.
I think I prefer Jesus.
He will be the Messiah.
No one in the family's called Emmanuel.
He will be the salvation of mankind.
Jesus has got a nice ring to it don't you think?
You will be worshipped as the replacement mother goddess, as the Queen of Heaven. Well, not worshipped exactly, more sort of... er...
Blessed?
Yes blessed! No! No, no, no, no, no. Not blessed.
And that everyone, is the True Meaning of Advent.
Listen/Read
<<First
<Back
| 144 | 145 | 146 | 147 | 148 | 149 | 150 | 151 | 152 | 153 |
Next>
Last>>