Rating
4 out of 5 (Highly platitudinous)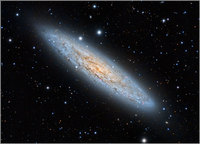 I'm delighted that Tracey Emin has been appointed
professor of drawing
at the RA. Tracey was "thrilled". I'm not thrilled, but I am delighted.
In order to draw things you have to look at them. David Hockney agrees with me. "In order to draw things you have to look at them," he said.
While you are looking at something you use a pencil to sketch lines on paper that creates a representation of the thing you are looking at. That is how to do drawing. Drawing isn't just an arty thing. Architects, engineers and anatomists draw things too. So drawing is important. Although it has to be said that architects and engineers tend not to draw things they are looking at, so Hockney and me were probably lying when we said you had to look at things in order to draw them.
We now come to the important question: are you allowed to draw the Invisible Magic Friend? Fortunately, skilled theologians have investigated this difficult subject, and the answer is, yes, you are. Other religions say you're not, but they're wrong. The reason you are is that there was a visible bit of the Invisible Magic Friend. Nobody drew him at the time, so we don't know what he looked like, but we know he was tall, white, with nicely shampooed hair and had blue eyes, because that's the way everyone imagines he must have looked. You can also draw the other bits of the Invisible Magic Friend even though he's hardly ever been visible except as the occasional burning bush. This was recognisable as the invisible Magic Friend because it was a talking burning bush.
This means that pictures of the baby Jesus on Christmas Cards are theologically orthodox and are therefore permitted.
We look at the world with our eyes. We also use our hands. Other bits of the body come in useful too.
A famous hermit says we must be like angels, who even though they don't have any bits of the body, still look at things.
Listen/Read
<<First
<Back
| 144 | 145 | 146 | 147 | 148 | 149 | 150 | 151 | 152 | 153 |
Next>
Last>>